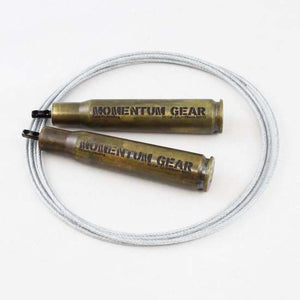 50 Cal Speed Rope | Momentum Gear
Momentum Gear
50 Cal Speed Rope
"Care package inbound!"  The 50 Cal Speed Rope will delight Call of Duty and military fans everywhere.  
Made from spent 50 cal ammo rounds, finished with a military skin, these aren't your typical speed rope handles. 
In Homage to the Brave
The 50 Cal Speed Rope was designed in honor of the brave men and women of the US Armed Forces.  The handles are designed from 100% real spent 50 cal rounds out of the beautiful pacific northwest, USA.  A speed rope doesn't get much cooler than that.
5-Star Durability
Much like the rest of Momentum Gear's speed ropes, the 50 Cal Speed Rope is built to take a beating.  Compared to other ropes, the handles are heavier and sturdier, almost double the weight of the Momentum Elite or Bad Mother F***er.  No corners were cut, as these are the same quality as the brass rounds made for the proud red, white, and blue!
The 50 cal handles are etched using precision laser engraving. A silver 7-strand PVC coated cable finishes off this heroic product.  
Tool-Free Adjustable
The 50 Cal Speed Rope requires no tools to adjust. The rope begins at 10'10", with the option to easily pull the cable through the handles for the ideal length. 
Check out the below video for a how-to guide!
Specifications:
Handles: Real brass 50 cal shells, laser engraved, 4" length, 1" diameter
Cable: 7-strand PVC coated cable, 10'10" length
Weighs ~7.5oz
Self-lubricating nylon bearings
Adjustable without any tools
Proudly made in the USA